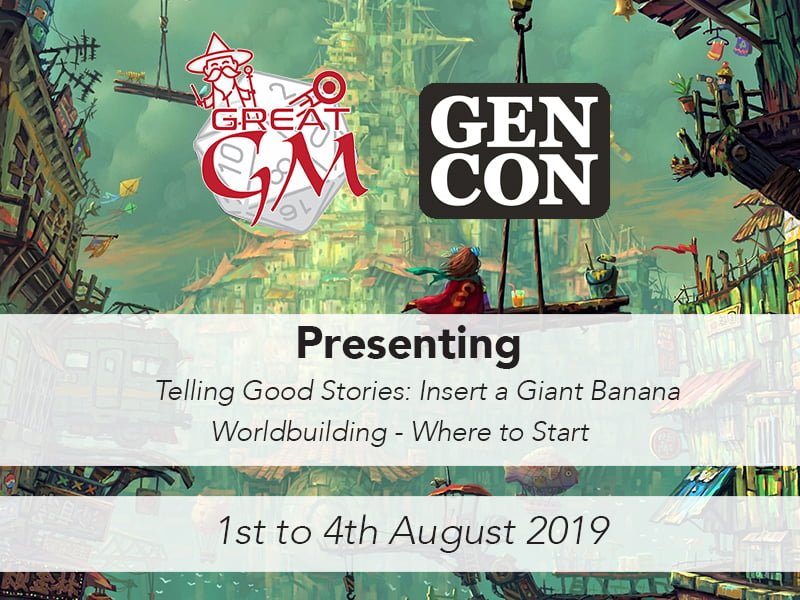 How to be a Great GM is going at GenCon 2019, are you?
1st to the 4th August, 2019, sees a half million roleplayers and other hobbyists descend upon Indianapolis, Indiana, in the USA for the biggest gaming event of the year: GenCon. This year, How to be a Great GM will be there in force! Thanks totally to the amazing support of our patreons and fans. This means we are going to be going big, and by big, I mean, I've even packed the Web Goblin in the suitcase!
For starters, How to be a Great GM, will be hosting two official seminars at GenCon – Telling Good Stories: Insert a Giant Banana, and Worldbuilding – Where to Start. Their booking codes are SEM19146177 and WKS19146183 respectively. The World-bulding workshop is co-hosted by WorldAnvil.com and there are some cool give-aways they will be giving away during the event. Both of these events require you to book! Space is limited, so when event registration opens on May 19th you should be online booking your spot! Head on over www.gencon.com to do that.
Both of those are interactive and I'll be asking questions and demanding answers throughout. You should come prepared with pen and paper.
Then, there may or may be a live session of the Save or Dice Live RPG show that I participate in. That promises to be a hell of a lot of fun, and I'll make it interactive for sure.
If you haven't found us on discord yet, please go look. There is a special channel on the How to be a Great GM server dedicated to GenCon. We're looking to organize other events just for patreons and fans of the channel! We need input however! What would you like to do? In the past I've hosted breakfasts which were just two hours of socializing and chatting, I've run games, I've held dinners, we've done just drinks… the options are limitless. So, we need to formulate some plans.
The Web Goblin will be with us. Thanks to your amazing support during the live streams on Twitch and YouTube we have raised enough money to cover his flight costs from Africa, and he'll will be around making a noise. If you have ever wanted to meet the quiet genius behind rpgtablefinder.com, greatgamemaster.com, or my constant source of motivation to make more, now is your time! Beware though, he tends to TPK his party when he plays…
GenCon is going to be crazy, and we are having commemorative round button badges made for the event, find us and grab yours! I hope to meet everyone single fan, patreon, and supporter of the channel I can whilst at GenCon because I have so many people to thank for you awesome support of the channel.
Let the dice roll, we are careless to danger!
book for good stories
book for world building