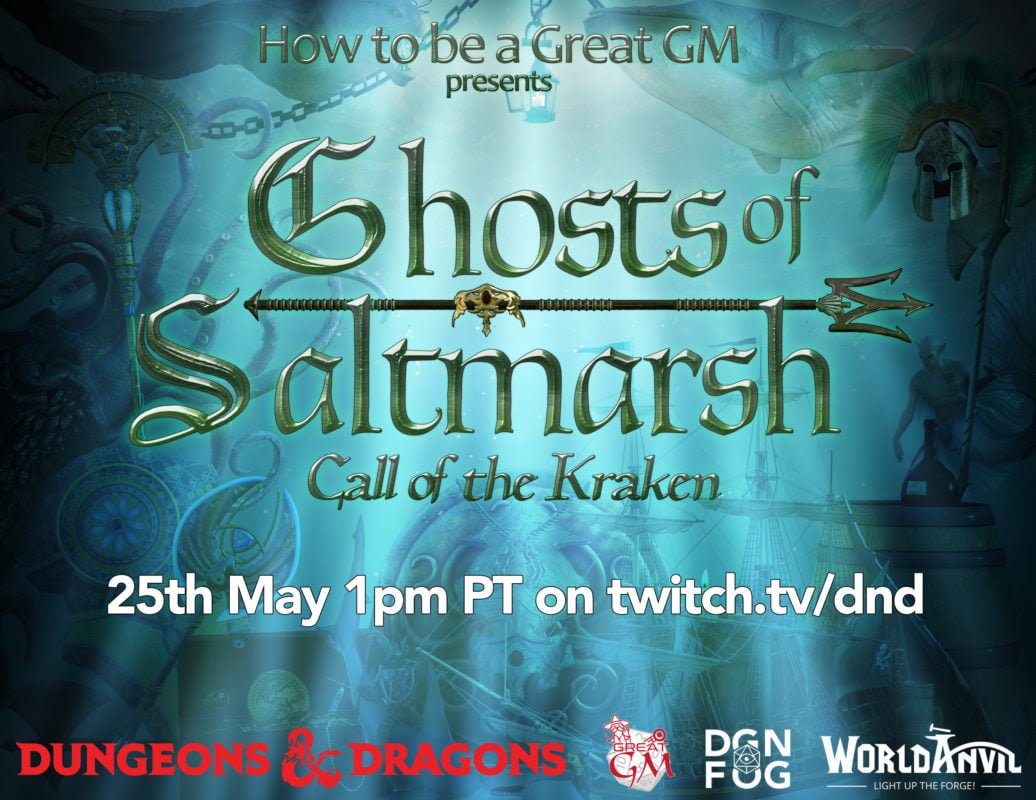 How to be a Great GM Presents
Ghosts of Saltmarsh – Call of the Kraken
On the 25th of May at 1pm PST, or 8 pm GMT depending on which ocean you call home, the first LIVE stream episode of How to be a Great GM presents Ghosts of Saltmarsh – Call of the Kraken airs on the official D&D twitch channel; twitch.tv/dnd. As the name implies the show is hosted by How to be a Great GM's Guy Sclanders, a GM with decades of experience in role-playing games and Dungeons & Dragons.
The first season will run for 12 episodes. The heroes will go through some of the content from the Dungeons & Dragons upcoming Adventure book, Ghosts of Saltmarsh – releasing on the 21st of May through all your favourite retailers online and globally. It promises to be a game full of high seas adventure that takes you on a journey from the depths of Azure sea to well… the deeper depths of the Azure sea. The poor town of Saltmarsh isn't ready for the kraken! Or the heroes.
Drawn from across the world, the Great GM's ensemble cast brings an exciting new dynamic to the Dungeons & Dragons twitch offerings. Players from the UK, Germany, Sweden, South Africa, and Australia have been selected to play and represent the very best of the hobby – from a fulltime cartographer to an opera singer, from a Youth centre manager to a full-time LARP and cosplay queen, the players promise to behave, not split the party, and most definitely follow the quests and adventures that Guy will be running them through…
How to be a Great GM, Guy's popular GM and Player help and advice YouTube channel, has for years provided insight and raised serious questions about the hobby of roleplaying. With over 400 videos on the subject, he has been criticized for being a good GM, an OK player, and the David Attenborough of Role-playing. As the fat goblin, he and his fans are legion and you can find them on discord, twitter, Instagram, facebook, Youtube and twitch – links at the end of the article.
What can you expect from this world-wide mishmash of players? Chaos and insanity, and lots of Dungeons & Dragons! Working with the material presented in the book, Guy will be releasing a show before the Live twitch stream, wherein he unpacks how he has planned the weeks adventure, what his goals are and the monsters and maps he's made. He also gives insight into how he is planning on handling the players, their characters and their poor life-choices, all neatly wrapped up in the show: How to be a Great GM presents Ghosts of Saltmarsh – Release the GM. It contains spoilers, but is a must-watch for any aspiring or experienced GM to see what goes into planning a session. The entire 12 session campaign plan is included, to really get a feel for how it should all work.
Added to that, Guy will subsequently review the previous session – unpacking his mistakes, his triumphs, how the players derailed everything, and looking for creative solutions on how to turn it around and bring it back on track. Guy's GM style, and channel focus, is on telling good stories through collaboration with the players. He favours a controlled plot and a chaotic exploration thereof.
What is the plot? Let's just say Ghosts of Saltmash as an adventure series for level 1 – 12 characters offers so many potential plots, and encourages so many more that you'll just need to watch the preshow – How to be a Great GM presents Ghosts of Saltmarsh – Release the GM. The preshow can be found on his YouTube channel, How to be a Great GM and will release on Friday nights.
Produced for Dungeons & Dragons, and sponsored by WorldAnvil.com and DungeonFog.com, you know the material is going to be top drawer. Custom maps, unique races, and enhanced content will be released utilizing the power that those platforms offer to the Roleplaying community.
Whether you like aquatic adventures, sailing ships, shouting Arrrrrrr! or are just a fan of fantasy adventure, you'll love How to be a Great GM presents Ghosts of Saltmarsh – Call of the Kraken, as it takes the excellent new game mechanics presented in the Ghosts of Saltmarsh, combines them with a great crew of players, and brings it all to you in a weekly adventure of fun, dice, and well… tentacles.
25th of May 2019 – see you on twitch! Bring your best sea legs and kraken repellent…
When & Where
12 Live Playthroughs starting on the 25th of May at 1pm PST / 20:00 GMT – Every Friday