30 Giant World-class , rewritable, 1-inch grid fantasy maps in a standard RPG book-sized package.
Each of the beautifully detailed maps contained within this epic volume are specially designed to fold flat, to be to scale with standard mini's, and are coated in a special laminate allowing you to draw on them with dry erase markers.
Each map folds out with most being around 3 feet long and 1 foot wide.
Combine two books together and many of the maps link together, creating a giant 3 foot by 2 foot map!
Epic Battlemaps vol. 1
What you can expect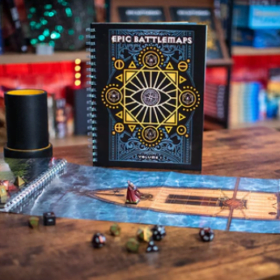 Packed into the book, these are some of the maps:
A small town complete with inn, church, alchemists shop, warehouse, guardhouse and more!
A small keep
A large forest region
A large jungle region with obligatory sacrificial pit
A long stone bridge (made longer with two books)
A large mine
Rivers, ice caves and more

The print run was limited to 500 copies so order now! Order two copies and save on the shipping!
Shop now