I wanted to make the easiest-to-play TTRPG ever. It had to have some mechanics, it had to inspire awesome adventures, and… it had to have zero math, no dice, and just be a blast to play regardless of the player's TTRPG experience. (No easy feat let me tell you).
I also needed a setting that was both cinematic and action-packed… Bounty Hunters in space.
So I proudly present to you for your backing: Bounty Hunter – a cinematic, slick, and easy-to-play TTRPG.
"The PCs are Bounty Hunters taking on jobs, hunting down bounties, claiming the rewards and living large in a galaxy full of wonders and chaos. "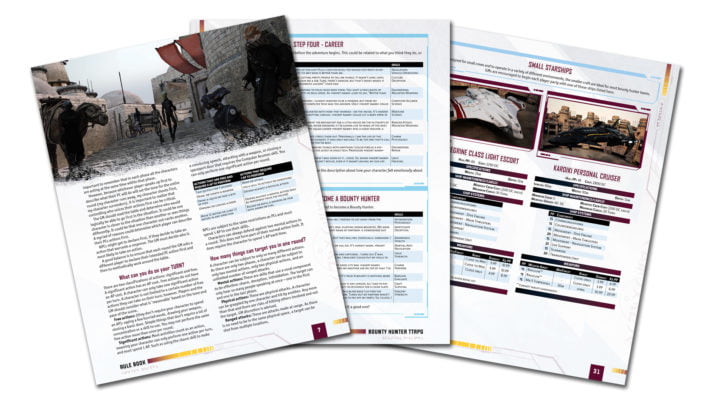 If you've ever wanted to run a cool game set in space with super simple rules -and you wanted to run it now – this is the game system for you.
In this 84 page A5 rulebook we've packed in:
All the rules needed to run the game
Character creation and Backstory Generator
96 Bounty Hunter random names generator
Starship Combat
5 sample starships
5 sample NPCs
Epic bounty hunter equipment
The rules are designed in such a way that this Bounty Hunter TTRPG can be played with ZERO BOUNTY HUNTERS and is also an awesome Sci-Fi TTRPG system. Wanna run Galaxy Journey? Galaxy Conflicts? Warsun Universia? A large open space that expands for a long way? It's all here.